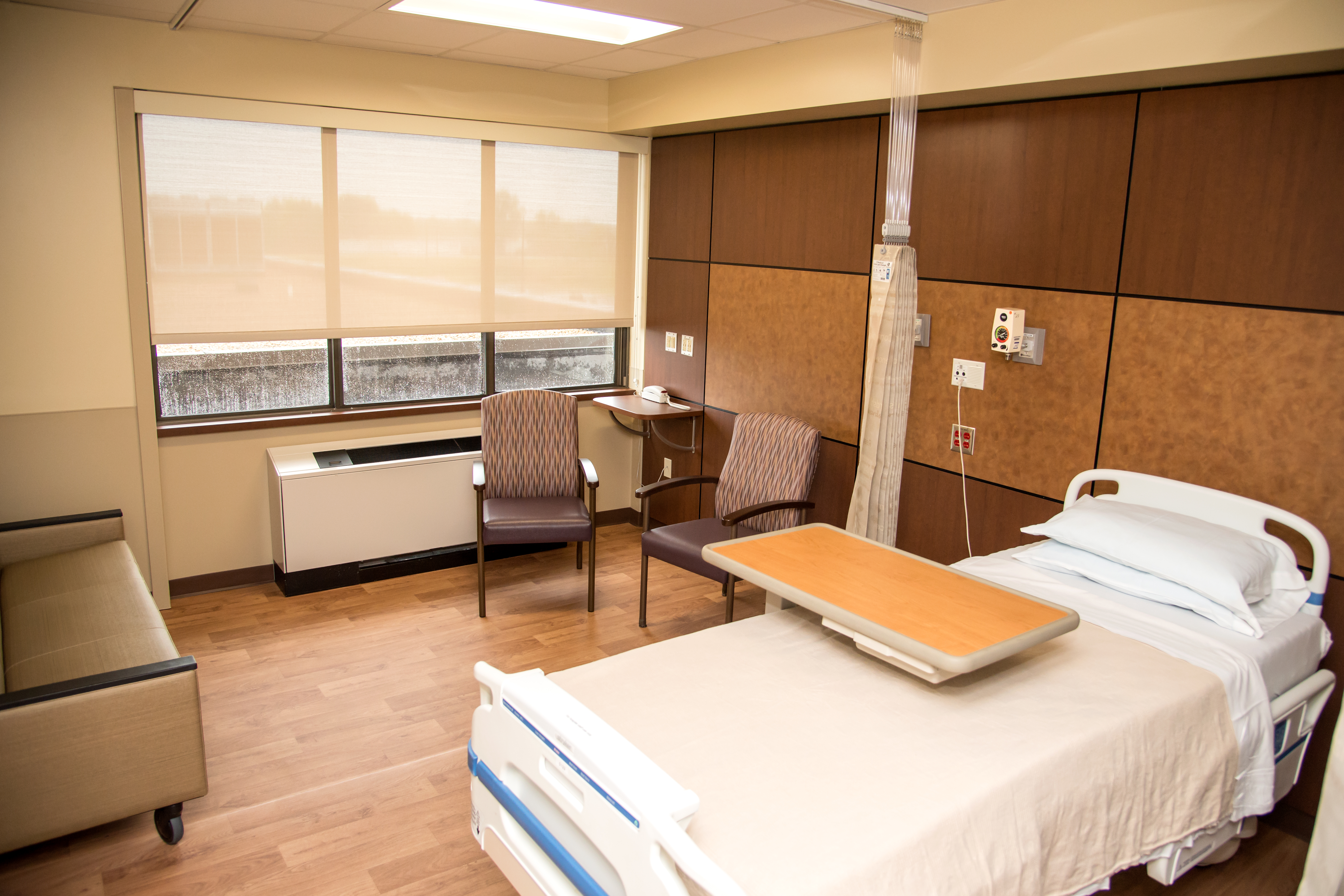 Spotlight on Architecture & Design – Anderson Hospital
Anderson Hospital in Maryville, Illinois recently completed the conversion from semi-private to private patient rooms. Louer Facility Planning in Collinsville collaborated with Anderson, from the initial planning phases through the recent completion, to select finishes and furnishings for the project.
A major reason for the conversion to private rooms is to improve the patient's experience during their hospital stay. Design Director Yvette Paris, NCIDQ, LEED AP explains "To achieve this initiative, we set out to create rooms that feel warm and home-like, while ensuring that furniture & finish materials are functional and easy to clean."
Today's choices for healthcare furnishings and interior finishes have improved and are getting away from the "institutional" look of years past. Paris notes that features such as plastic laminate headboards that look like wood, and vinyl flooring in wood grain patterns, can add to the warm feel but remain easy to wipe down and sanitize. The addition of sleeper sofas allows family members to stay overnight with patients. The sofas have attractive yet durable upholstery, and can be easily converted from a sofa to a bed.
Lisa Klaustermeier, Chief Nursing Officer at Anderson Hospital commented "The change in our space has been remarkable. The Louer team did an excellent job and was instrumental from the design stage through completion of the private room project. With their involvement in the room design, finishes, and furniture, we achieved a better outcome and a cohesive overall design solution."
Paris concludes, "Our firm is a full service commercial furniture dealership. We take a unique and thoughtful approach to planning interior environments and providing furniture solutions. Our early involvement in projects like Anderson Hospital's Private Rooms, and our collaboration with clients, architects, and contractors, ensure a positive outcome."
February 2017
Illinois Business Journal
Spotlight on Architecture & Design